Josh Chiprich, Vice President of Steelmax Tools, discusses what you should consider and the questions you should ask when purchasing a Mag Drill.
The search has begun. You have talked with co-workers, gone online and even visited a store or two because it is finally time to purchase a magnetic based drill, commonly known as a mag drill.  Mag drills are an essential tool for anyone who is involved in production, installation or altering of steel and metals.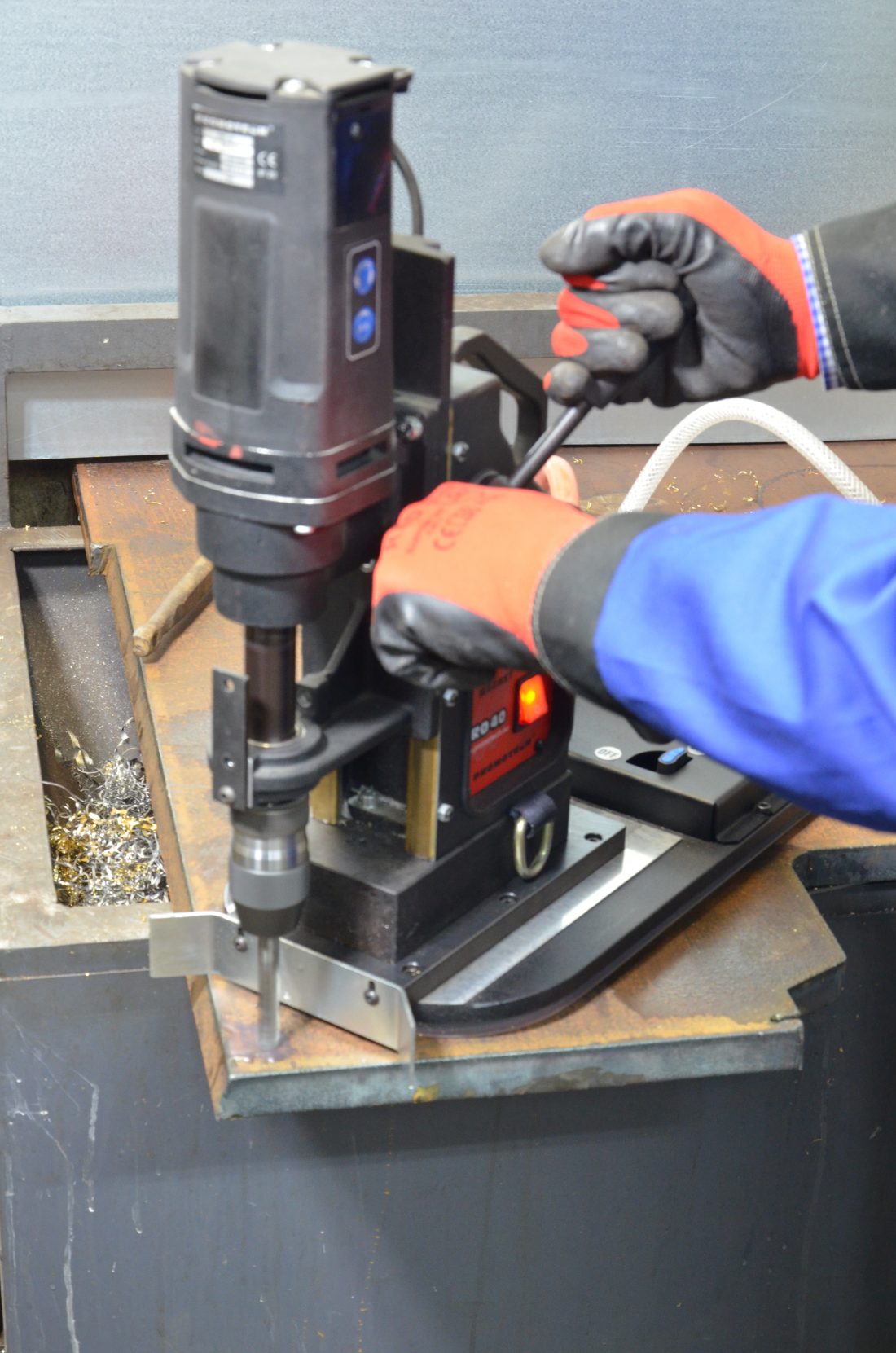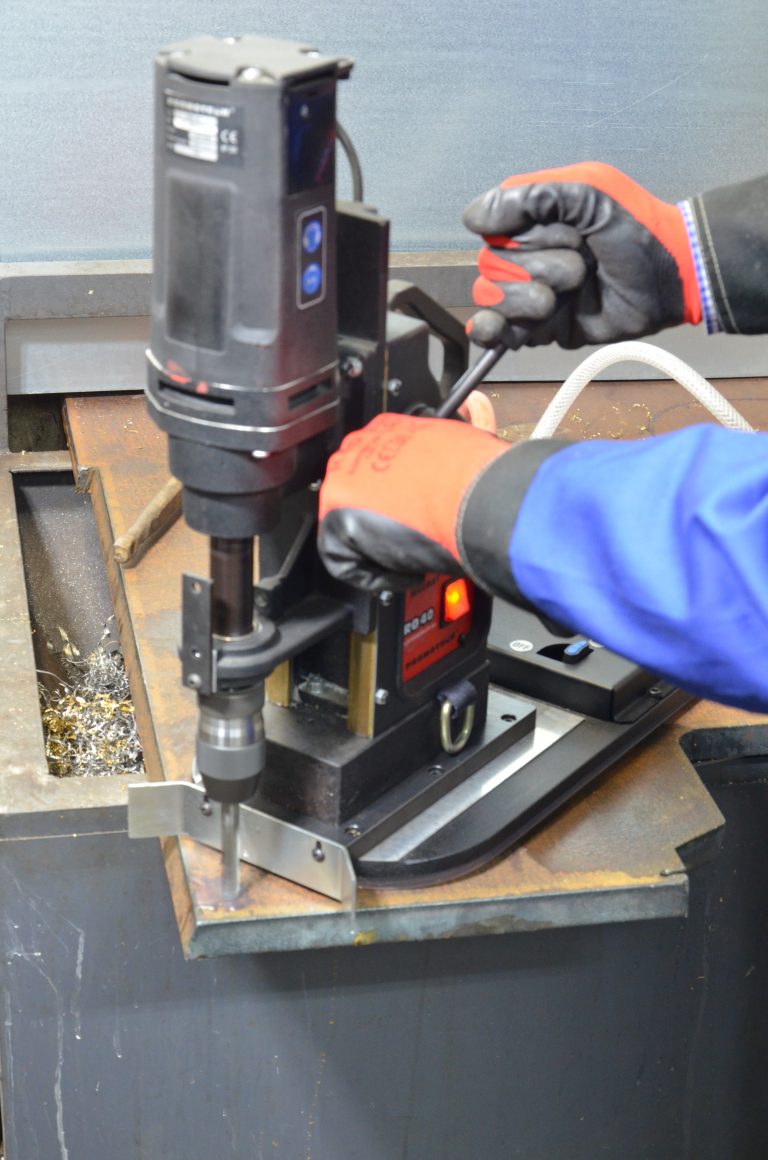 Mag drills vary in size, power and weight which directly relate to the maximum diameter hole they can make and the thickness of material they can drill through.  Mag drills are a workhorse in structural steel fabrication operations (shipbuilding and bridge construction and repair are two examples).  One of the most common applications is creating holes for bolted connections in these steel structures.  They are also used in the production of truck frame rails, steel signage, roadway guard rails, military equipment and countless other applications.  Virtually every Maintenance & Repair Operation will have numerous mag drills in their tool portfolio.
You soon discover that there are a tremendous number of mag drills available to choose from – all with their own set of capabilities, sizes, features and accessories.  There are drills for simple hole-making on flat plates, low profile drills for use in restricted spaces (such as truck frames) and ATEX© certified drills designed for use in hazardous environments (such as mining and chemical processing facilities).  Coupled with the myriad accessories available for these drills, choosing the right mag drill can be a daunting task.  However, the indisputable truth is that when you need to drill holes and the work can't be moved to the machine, mag drills are the simplest and most cost-effective way to bring the machine to the work.
To help simplify the process of choosing a mag drill, here are some of the questions that you should consider in order to narrow the list of potential options.
What is the maximum diameter hole that needs to be made and what is the maximum thickness of plate that needs to be drilled?  These two dimensions determine the minimum size and power of the drill for your application.  Mag drills are designed to be used with Annular Cutters rather than solid twist drill bits, but many are capable of using both.  Whether you will use annular cutters or solid drill bits will also factor into the minimum size and power mag drill you need for your application.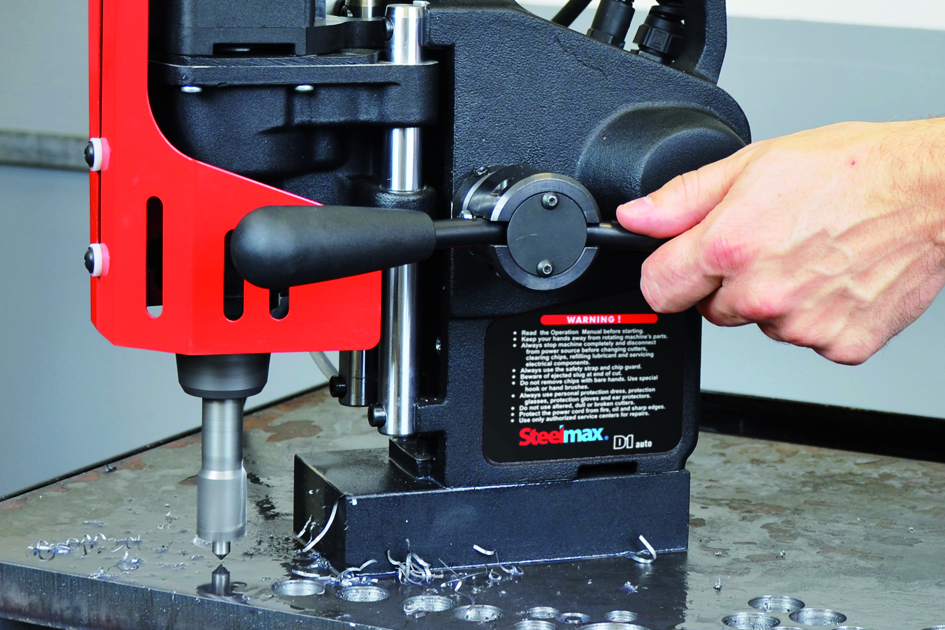 How many holes are you drilling? The most common, and least expensive, mag drills are manual feed drills.  Manual drills are fine for many applications.  However, when a large number of holes need to be drilled, a semi-automatic mag drill may be a better option.  Semi-automatic machines reduce operator fatigue and extend cutter life because the machine exerts constant feed pressure throughout the hole-making process.
Do I need a mag drill with an integrated coolant system?  Regardless of your application, the answer to this question is "YES."  Annular cutters and twist drill bits will dull quickly if they are not cooled during the cutting process.  Choose a mag drill with an integrated, through-the-spindle coolant system and use a good quality, water-based coolant every time you use your mag drill.  For making holes on vertical surfaces or overhead, aerosol spray or paste coolants will be less messy than liquid coolants.  Always use a coolant and you will be much happier with the performance of your cutters.
What type of material is being drilled?  The majority of mag drills operate at a single RPM.  Larger mag drills frequently incorporate variable speed motors and multiple ratio gearboxes so that cutting RPM can be optimized for the material being cut, the diameter of the hole being made, and the type of annular cutter being used (High Speed Steel or Tungsten Carbide Tipped).  Harder materials are best cut at lower RPM to avoid over heating of the cutter and the drill motor.  Similarly, larger diameter cutters should be operated at lower RPM to optimize the linear cutting speed of the cutter tip and to avoid cutter and motor overheating.  Lastly, HSS cutters should be run at lower RPM than TCT cutters to obtain optimal cutter performance.  Nothing dulls an annular cutter faster than overheating.  Auto-feed drills generally have integrated circuitry that optimizes cutter RPM and feed rate for the material being cut and cutter diameter.
Are there space limitations where you will be drilling?  Tight spaces and elevated work locations such as bridges,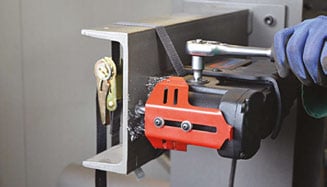 building construction and truck frames frequently will not accommodate the height of a typical mag drill.  For these applications, a specifically designed low profile drill, that is light-weight and compact, may be your best option.
Will you be drilling holes on vertical surfaces or even overhead?  Almost all mag drills are supplied with a safety chain or strap to secure the drill when it is being used on a vertical surface or in an overhead application, but you should also make sure the magnet is adequately sized for this type of work.  Regardless of the drill's magnetic holding power, safety chains or straps should always be used in vertical and overhead applications to protect against the drill falling as a result of a power failure or failure of the drill's electromagnetic base.
What Accessories do I need?  You can determine what accessories you might need by considering the following questions and making sure the mag drill you choose can accommodate the needed accessories.
Do I need to use twist drill bits with the mag drill? Can the mag drill I am considering accommodate a standard drill chuck?
Am I going to need to tap any holes? Can the mag drill accommodate a tapping head, or does it have integrated tapping capabilities?
Will I be countersinking any holes?
Will I ever need to drill holes in pipe or tubing? Is there a pipe attachment available for the drill?
Will I ever need to drill aluminum or other non-ferrous materials? Is there a vacuum attachment available for the drill?
How easy is the Mag Drill to use?  Ease of use, particularly ease of access to the magnet and motor controls is often overlooked in the purchase of a mag drill.  The controls may be easy to access when the machine is operated in one direction but when turned around, they may be impossible to reach.  Try to find a machine which has controls that can be reached regardless of the orientation of the machine.
What Safety Features are Important/Needed?  Although using a mag drill for larger diameter holes is much safer than using a conventional hand-held drill, mag drills can still be dangerous if not used properly.
Always read and follow the operator's manual and use the securing chain or strap provided with the machines. The electromagnet will only operate if the power is on.
Make sure the swarf guard provided with the machine is in place during drilling. This will contain the swarf created during drilling and reduce the risk of a body part coming into contact with the cutter.  If the drill you are considering does not have an integrated swarf guard, move on to another drill!
A good mag drill should also incorporate several safety features related to magnetic holding power. All Steelmax mag drills incorporate two magnetic holding power safety features that protect both the drill and the operator.  These are the Magnetic Field Shape Control (MFSC) and Magnetic Power Adhesion Control (MPAC) modules.

MFSC optimizes the drill's magnetic holding power, particularly for drilling thinner materials.
MPAC detects the holding force of the electromagnetic base and prevents drill motor activation when there is insufficient holding power.
Almost any hole-making application can be satisfied with the right mag drill.  Steelmax has a complete line of mag drills and our experts will be happy to help you work through the options and make the right choice.
Happy hunting and let us know how we can help. Click Here For More information or email our sales team.